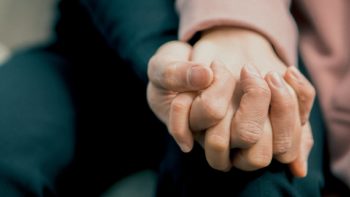 Germany's Constitutional Court has ruled that a law forbidding professional assistance to die is unconstitutional, in a move that is being seen as a major victory for assisted dying campaigners.
The decision, which centred on a controversial 2015 law – which legalised the right for individuals to purchase life-ending substances for 'altruistic motives' but forbade doctors or other professionals from prescribing substances for 'enterprise purposes' – found that to deny adults the right to professional assistance unlawfully denies them a 'right to a self-determined death'.
The judgment has been hailed as a major victory for right-to-die campaigners for clarifying the law for those who are terminally ill, since the Court had already ruled in 2017 doctors could not always deny adults who were 'seriously and incurably ill' access to similar drugs.
Previously, the law had meant that any doctor who assisted a patient to end their life could face up to 5 years' imprisonment, resulting in more than 120 people individually applying for life-ending substances to Germany's Institute for Drugs and Medical Devices without any professional assistance between 2015 and 2019.
Humanists UK, which campaigns for assisted dying for people who are terminally ill and incurably suffering, has welcomed the decision. Humanists UK is supporting Paul Lamb in his bid to change the law on assisted dying in the UK.
It will now be up to Germany's Government to propose legislation to bring the law in line with the Court's ruling.
Humanists UK's Director of Public Affairs and Policy Richy Thompson said:
'There is now an abundance of evidence demonstrating that a balance between respect for an individual's autonomy and robust safeguards can be achieved under a sensible and transparent law on assisted dying. Yet, whilst more than 150 million people around the world now have the right to a peaceful and painless death, our own law continues to force those who are incurably suffering to die without dignity or compassion. There is a better way forward, and it is time for the UK to follow in the footsteps of our European neighbours.
'Dying in a manner and at a time of your own choice is a fundamental human right, and we welcome the decision of Germany's Court decision as yet another affirmation of this.'
Notes:
For further comment or information, please contact Humanists UK Press Manager Casey-Ann Seaniger at casey@humanism.org.uk or phone 020 7324 3078 or 07393 344293.
Read more about Paul Lamb's assisted dying legal case.
Read more about Humanists UK's campaign for assisted dying reform.
Humanists UK is the national charity working on behalf of non-religious people. Powered by over 85,000 members and supporters, we advance free thinking and promote humanism to create a tolerant society where rational thinking and kindness prevail. We provide ceremonies, pastoral care, education, and support services benefitting over a million people every year and our campaigns advance humanist thinking on ethical issues, human rights, and equal treatment for all.