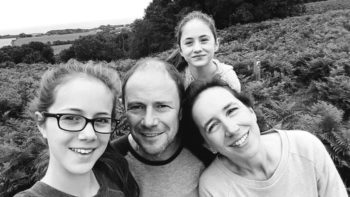 Assisted dying campaigner Phil Newby, who suffers from motor neurone disease and has been pushing for a change in the law on assisted dying, has been denied permission by the Court of Appeal.
Phil, 49, a father of two from Rutland, and member of Humanists UK, had asked the court for the right to examine an extensive body of evidence on assisted dying and cross-examine expert witnesses.
Last year, his case had been rejected by the High Court who ruled the issue should be resolved by Parliament instead.
Humanists UK is also working closely with its member Paul Lamb in appealing his case which was rejected by the High Court in December 2019. In 2014 Paul brought a legal case to the Supreme Court, which secured a promise from the court that it would look against the issue should Parliament fail to legislate – making Phil Newby's case possible.
Last week MPs debated initiating a call for evidence on assisted dying for the first time since Paul and Phil's cases were heard.
Humanists UK's Director of Public Affairs and Policy Richy Thompson said: 'We are disappointed the Court of Appeal has refused permission to bring Phil's case, but will continue to support him and Paul Lamb – who we hope has a stronger prospect of success.
'More countries than ever have now legalised the option of a safeguarded assisted death, and proven that a compassionate law need not come at the expense of robust safeguards. Adults of sound mind, who are incurably suffering or terminally ill, deserve the right to die on their own terms, and it is a disgrace our laws have forced so many to die, with little dignity, for so long.'
Notes:
For further comment or information, please contact Humanists UK Press Manager Casey-Ann Seaniger at casey@humanism.org.uk or phone 020 7324 3078 or 07393 344293.
Read our previous news item on Phil Newby.
Read more about Humanists UK's campaign for assisted dying reform.
Humanists UK is the national charity working on behalf of non-religious people. Powered by over 85,000 members and supporters, we advance free thinking and promote humanism to create a tolerant society where rational thinking and kindness prevail. We provide ceremonies, pastoral care, education, and support services benefitting over a million people every year and our campaigns advance humanist thinking on ethical issues, human rights, and equal treatment for all.