The Falkland Islan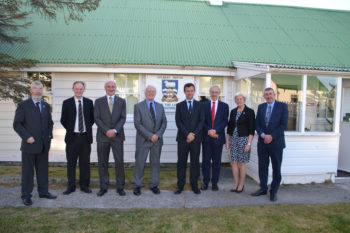 ds Legislative Assembly has voted in favour of a motion to support the right of terminally ill islanders to choose a dignified assisted death, by a margin of four votes to three, with one abstention. The Legislative Assembly also passed a second motion stating that in the event that assisted dying is legalised in the UK, the Falklands Islands will also introduce it. Humanists UK, which campaigns for a change in law to allow those who are the terminally ill or incurably suffering to have an assisted death, welcomes this vote.
These motions on the Falkland Islands follow debates in the crown dependencies of Guernsey and Jersey on assisted dying. In May, the States of Guernsey Assembly voted against proposals which were brought forward by Chief Minister Gavin St Pier and were supported by Channel Islands Humanists and Humanists UK.
Humanists UK Director of Public Affairs and Policy Richy Thompson commented, 'Although this vote does not directly change the law on Falkland Islands, it is indicative of growing support for change across the UK, crown dependencies, and overseas territories. The Falkland Islands are leading way on this issue.
'As medical science has become more advanced, so too has our ability to keep people alive for longer than ever before. This development in science is to be welcomed but it also means that many people end up suffering for longer before they die. The motions on which the Falkland Islands has voted, therefore, are needed more now than at any other time in our history.'
Notes
For further comment or information, please contact Humanists UK's Director of Public Affairs and Policy Richy Thompson at richy@humanism.org.uk or on 0781 55 89 636.
In 2013-14, Humanists UK intervened in support of Tony and Jane Nicklinson's and Paul Lamb's attempts to overhaul the law on assisted dying for the terminally ill and incurably suffering by taking human rights cases through the courts. Humanists UK also supported subsequent attempts in the UK Parliament to legalise assisted dying for the terminally ill.
This year, Humanists UK intervened in the Court of Appeal case of its member Noel Conway, who is terminally ill, and is intending to do the same in the anticipated High Court case of its member Omid T, who is seeking to also allow assisted dying for those who are not terminally ill but are incurably suffering.
Read more about Humanists UK's campaigns work on assisted dying: http://humanism.org.uk/campaigns/public-ethical-issues/assisted-dying/
At Humanists UK, we advance free thinking and promote humanism to create a tolerant society where rational thinking and kindness prevail. Our work brings non-religious people together to develop their own views, helping people be happier and more fulfilled in the one life we have. Through our ceremonies, education services, and community and campaigning work, we strive to create a fair and equal society for all.